For the last three years, Graham Lawler has been hanging a sign from Gareth Morgan's balcony, advertising the Mount Maunganui Runners and Walkers Half Marathon.
"I just happened to be at the Mount one day three years ago," says Graham. "I'd just been elected onto the Mt Maunganui Runners and Walkers club committee and was at the Mount watching a triathlon.
"Gareth walked past and so I asked him if we could hang a sign from his balcony.
"He and Jo just welcomed us with open arms. They and businesses around the Mount are very supportive of the club."
It's easy to see why, with the club providing something for everyone, from the serious marathon runner to young children having a fun event on Mount Main Beach.
Entering its 33rd year, the popular Queen's Birthday weekend Mount Runners Half Marathon will be pulling in more than 1200 runners and walkers this year.
Organised annually by the Mt Maunganui Runners & Walkers club, the Half Marathon Run/Walk is the main feature event, but there are also 10km and 5 km Run/Walk options. All options complete a circumnavigation of the Mauao base track.
An extra KidsK course is held on the Mount Maunganui main beach with entry by gold coin donation for the super keen young ones.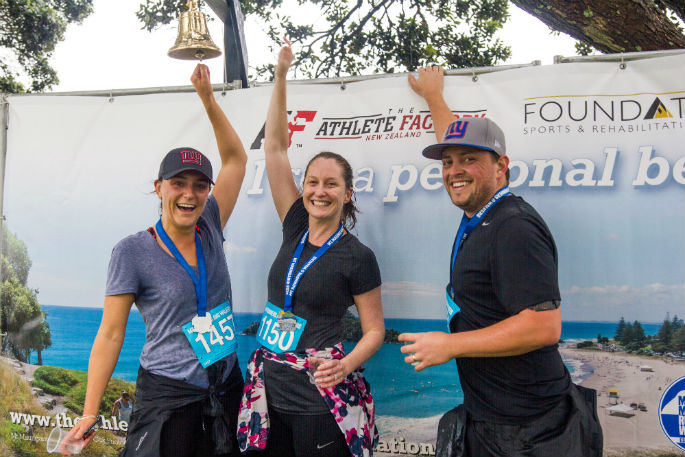 Runners ringing in a personal best at the Mount Runners Half Marathon.
"Last year, we introduced a personal best bell which proved very popular so that'll be back again this year," says club president Melissa Olsen. "When competitors come across the line with a personal best, they get to ring the bell to tell the world!
"It's so fantastic to see all the smiling faces as people ring the bell to celebrate completing their first half marathon, doing their fastest time or for doing their first event since having a baby!"
One of the least expensive half marathons in NZ, everyone who finishes gets a medal, and profits made are reinvested into the following year's event. This means it just keeps getting better.
"In past years, we've been able to support the Mount Maunganui Lifeguard Service and the Western Bay Wildlife Trust which is wonderful," says Melissa.
"It's been growing over the last few years. It's open to all age groups and a lot more families have entered in recent years, often with one parent doing the half or 10km, then the other parent or grandparent doing the 5km with the kids. It's a great way for parents to set an example and for families to do something together."
Whether the goal is to get fit, stay fit, go faster or go further, having an event to aim for helps keep people strongly focused. And the feedback from past events reflects how the friendly atmosphere and vibe is also a major drawcard. The course layout keeps everyone tight with supporters, spectators, cheerleaders and marshals close by.
To register to enter the Mount Maunganui Runners and Walkers Half Marathon, go to www.mtrunnershalfmarathon.co.nz