Sanctuary Mountain Maungatautari are farewelling four flightless takahe juveniles as they are being sent to Burwood Bush, the Department of Conservation's main breeding site near Te Anau.
The takahe, Jan, Cooper, and two male chicks Smuts and Titoki will travel down south on Wednesday, August 14 to eventually become established in new homes.
To date, 14 juveniles have been successfully raised at Maungatautari and seven have gone on to breed successfully at other sites, raising 12 chicks collectively, says a Sanctuary Mountain spokesperson.
"This means the breeding of takahe at Maungatautari has helped contribute 26 takahe to the growing total population.
"The takahe has now been downgraded from nationally critical to nationally vulnerable and official takahe numbers reached 376 in 2019. The new population figures will be released October 1st and are looking good for reaching 400 individuals for the first time since the recovery programme started – great news for the takahe!"
A family of five is a rare sight for takahe, so it is the last chance for members of the public to see the large family in the Tautari Wetland as two are set to leave in mid-August.
A small farewell is taking place at Sanctuary Mountain Maungatautari's Visitor Centre on Wednesday, August 14 at 8.15am before the birds are driven to Tauranga Airport for their flight to Christchurch.
Because it is only a short time for people to say goodbye to the takahe chicks, Sanctuary Mountain Maungatautari are offering a special highlights tour until they leave in mid-August for the community to say goodbye too.
Visitors will be able to enter the Tautari Wetlands with expert guides, and get a chance to see the takahe as a family of five one last time.
You can book online now. For every adult who books up to three children will go free.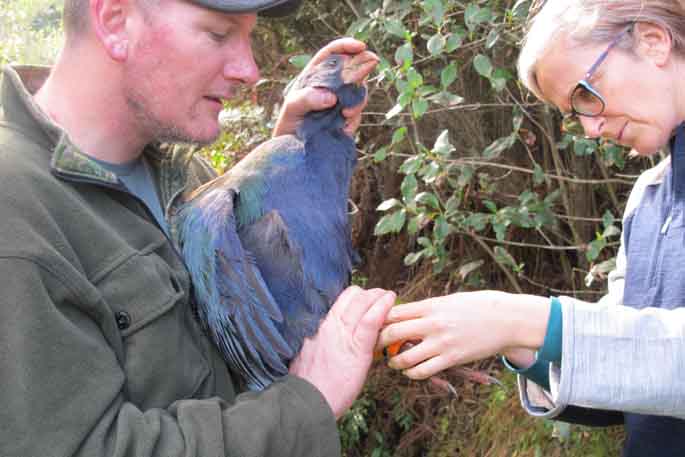 Ranger Craig Montgomerie and Species Coordinator Dr. Janelle Ward. Image: Supplied.