More than 70 jetskis will be making their way to Mayor Island this weekend.
Action Sports Direct is giving people the opportunity to go somewhere they may have not been or may have felt intimidated doing it on their own.
Just like their Matakana ride, they are wanting to make this a yearly event and are wanting to get as many jetskis as possible on the water.
To join in on the day trip on Sunday September 22, Sean Joyce from Action Sports Direct says all you need is a four-stroke jetski.
"Launch where ever it is convenient for you on the day and we will all congregate in Pilot Bay from 8.30 below the Mount for a briefing before we leave.
"We ask that no one leaves before the marshal blasts the air horn, that way everyone sticks together. Make sure your skis are charged up, full tank! Your ski and your safety is your responsibility."
Sean says this is an amazing opportunity to tick this adventure off this list.
"Our last Matakana trip had 96 skis, so it would be awesome to beat the numbers of that ride.
"I have personally never been on Mayor Island, so I am excited to have a look around and doing it with a whole lot of jetskis will be pretty amazing to see."
The trip will be leaving Pilot Bay at around 9am on the dot, and will be back at around 2pm.
Sean says the trip is weather dependant and updates will be posted to their Facebook page.
For more information, to find out costings and what to bring, click here: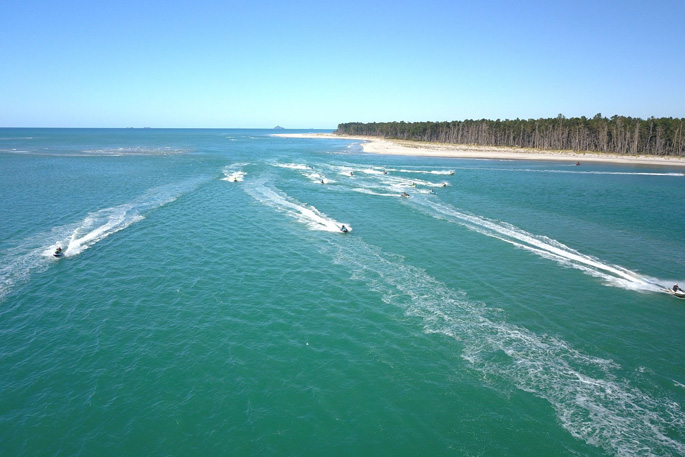 The day trip to Mayor Island is taking place this Sunday, September 22. Image: Supplied.