Colourful costumes, dancers, delicious food and a great sharing of cultures provided a stunning showcase of some of the rich diversity of Tauranga Moana on the weekend.
Greerton Village was the place to be on Saturday, with the first ever Spring Slavic Festival, attracting about 450 people to the Greerton Hall.
"We had stalls with food and produce from Croatia, Czechia and Slovakia," says Klara Luxford Rulisek, a member of Tauranga's Czech and Slovac Club. "Also there were two Polish stalls, a Russian one and one from Slovenia. And on stage, we had representatives from Czechia, Slovakia, Russia, Serbia, Bulgaria, Poland and the Ukraine."
Iryna Stewart, the vice-president of the Russian Speaking Community Trust and organiser of last year's Russian Festival held in the Bethlehem Hall, approached Ewa Fenn, who hails from Krakow, Poland, with the idea of working together to organise an event for all Slavs, not just Russians.
The resulting 2019 all-day festival, a collaboration of the Polish Community Trust and the Russian Speaking Community Trusts, as well as other organisations and individuals, had performers coming from Auckland and Hamilton, as well as Tauranga, to showcase the culture, traditions and food of Slavic countries.
Geographically, the Slavs are all neighbours, but many of the countries beforehand were in the Eastern or Communist Bloc through the Cold War.
"We can bond," says Ewa. "Our languages are quite similar. You can understand a few words here and there from the other languages people are speaking."
Those bonds were reinforced at the Greerton Hall in a cultural extravaganza of performance, dance, food stalls, crafts, an art exhibition and the passing of knowledge and information as Slavs shared their identity.
The hall filled up quickly in the morning, as locals arrived, also keen to enjoy the festival, with more people flocking in during the afternoon.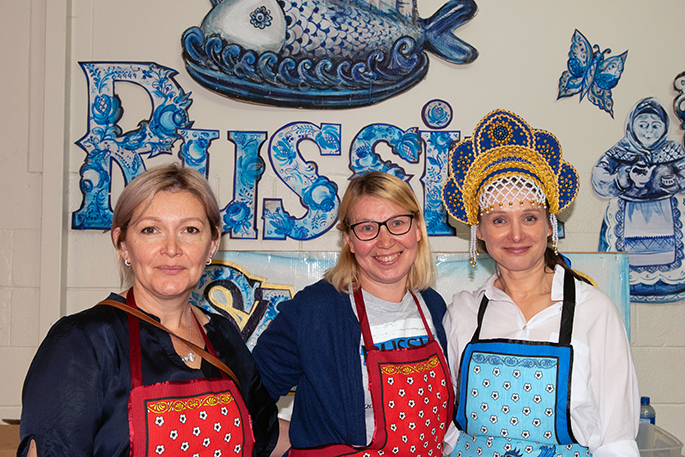 Russian stall.
"I was surprised how many people arrived," says Klara. "It was really lovely to see so many."
The Second Secretary of the Embassy of the Russian Federation in New Zealand, Sergei Glagolev travelled up from Wellington for the weekend. The Honorary Consul of the Republic of Poland Boguslaw Nowak was also invited but was unable to attend.
"Most of the Russian performers were from outside of Tauranga," says Iryna. "The Russian school Znanie from Hamilton performed seven dances, which had a big success. Two Russian singers and 'Volga', a dance group from Auckland also came.
"A big 'thank you' to Tauranga's Dance Education Centre. Their performing of five Slavic dances was amazing."
Ewa agrees.
"The Dance Education Centre presented five amazing dances which were world class and they were only young children," says Ewa.
"We received good feedback from the audiences," says Iryna. "And the dance group 'Bulgarian Roses' from Auckland not only performed on the stage, but engaged the audience to dance with them. Well done!"
The next day after the festival the local Russian speaking community had a picnic at Yatton Park.
"We invited the Secretary of the Russian Embassy Sergei Glagolev," says Iryna. "He accepted our invitation and we had a nice relaxing time with him in a more informal setting."
The group were planning to go to McLaren Falls Park, but Yatton Park is far better suited for anyone with disabilities, and for those who only have public transport as an option for travel.
The festival, with an initial introduction by Ewa at 10am, was opened by Tauranga Mayor Tenby Powell, who attended the event accompanied by his mother Val Heffer.
Stan Gregec, who has previously been the chief executive of the Tauranga Chamber of Commerce and is originally from Croatia, co-compered the festival, along with Alicja Ginders, whose parents arrived in NZ from Poland.
Local Labour list MP Jan Tinetti, Western Bay of Plenty Mayor Garry Webber and his wife Carole, and Tauranga City Councillor Kelvin Clout also attended.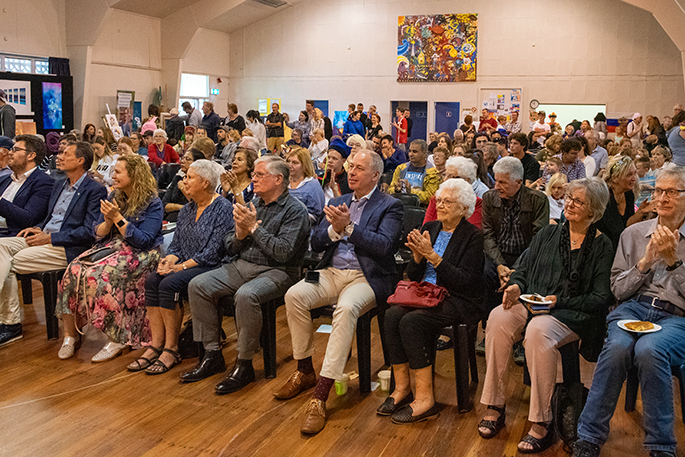 The audience in the Greerton Hall included Kelvin Clout, Jan Tinetti, Carole and Garry Webber, Tenby Powell and Val Heffer.
"It was fantastic," says Ewa. "Everyone says we have to repeat it next year."
Both she and Iryna are experiencing post-festival tiredness on Monday morning, but they're very happy with how the event went, despite having to resolve a microphone issue near the beginning.
"The main thing was people loved to meet each other and talk," says Ewa. "We discovered a lot of people from Serbia were living here in Tauranga and we didn't know that before."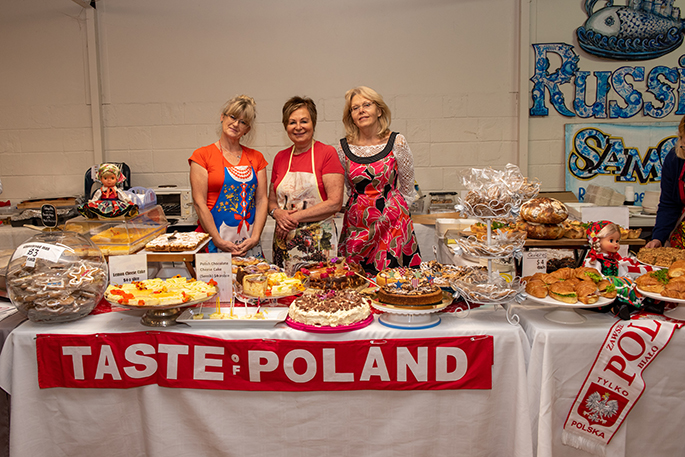 The Polish stall.
Last minute additions to the performances were Serbian musicians, including a boy playing the piano.
"Everyone was very happy. The food stall holders mostly sold everything and are keen for another festival," says Ewa.
"It was very successful," says Iryna, "with quite good interest from people. Originally when we were planning to do it, we thought we'd make it an annual festival."
For now though, the two organisers are having a well-deserved rest, before they start planning the next one.