Tauranga City Council has confirmed the temporary alcohol-free areas for summer.
The areas are all beaches, reserves and public places on the seaward side of Marine Parade, eastwards from its intersection of Grove Avenue to the intersection of Tweed Street, Omanu Surf Club and car park area and Waiariki Street.
The temporary areas are in addition to the permanent liquor ban areas in Mount Maunganui, Tauranga CBD, Papamoa beach, Arataki Park and Greerton Village, including Liston Park.
At the recent council meeting on Tuesday, November 19 the councillors voted to make these temporary areas alcohol free 24 hours a day seven days a week from December 26 until January 6, 2020.
Councillor Steve Morris is in the support of the bans.
"I believe this is in the public interest just over this period of time, it does give our residents a break from what is a very active period of time in our community.
"It also enables law enforcement to conduct their business efficiently as well so I speak in support of the motion."
From September 29, 2019 until April 5, 2020 the beach from Tweed Street to Sandhurst Drive has a liquor ban from 9pm until 7am.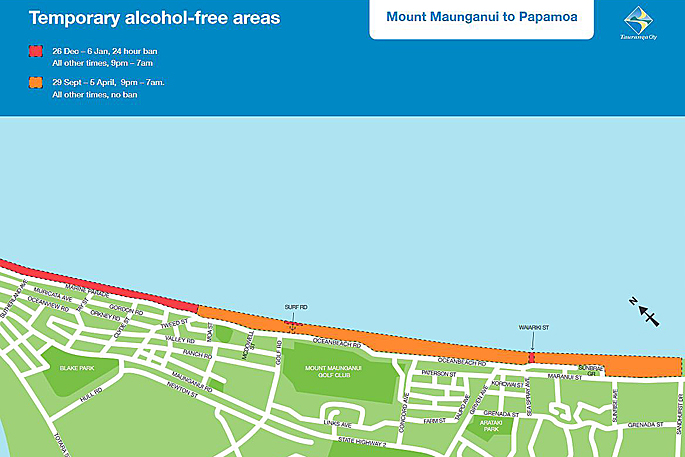 A map of the liquor ban areas along the coastal strip. Image: Tauranga City Council.
Tauranga City Council general manager, regulatory and compliance, Barbara Dempsey says, "We want to make sure everyone feels safe in our city".
"The liquor bans were put in place to curb alcohol-related incidents and the antisocial behaviour.
"The Police were also in favour of more powers to help them address alcohol related issues."
There are also some temporary alcohol free areas during events over the summer season.
Fergusson Park has a liquor ban between 10am December 31 and 6am January 1, 2020.
During the Bay Dreams festival all public places between Girven Road, part of Gloucester Road to the end of Truman Lane are alcohol free from 10am January 1 to 6am January 3, 2020.
More information about the alcohol free areas can be found on the council website.