The electorate office of Tauranga MP Simon Bridges has been defaced by a group who state that they want the Government to take action to stop the last committed oil exploration in New Zealand.
Organic molasses, representing 'dirty oil' was poured out on Saturday over the entrance steps leading into the Tauranga MP's electorate office.
"I don't think they realise – I'm not the Government," says Simon, on discovering the mess.
The group, who reportedly are made up of members of Extinction Rebellion Tauranga, Opotiki and Waihi, as well as members of Greenpeace, made their way to the electorate office 'to take a stand against OMV's presence in New Zealand waters'.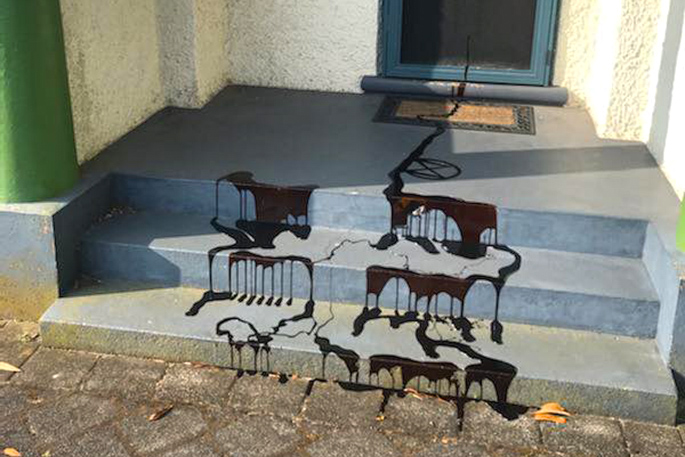 A message from the group stats that 'they joyfully marched to Simon Bridges' office on 3rd Ave to let him know that they want the Government to take action to stop the last committed oil exploration in New Zealand.'
"I respect your right to protest, Extinction Rebellion, but not when it comes to defacing people's property as you've done to my electorate office overnight," says Simon on a post on his Facebook page.
Doug Doig, one of the group leaders, was the person who poured out the 'oil' on the steps as other members of the group watched.
"It's time for us Boomers to start getting vocal about what dirty oil is doing to this country," says Doug. "This is a climate and ecological emergency- we need people like National Party leader Simon Bridges to tell the truth about the state of things. We need to move out of fossil fuels and into a new, justice- based vision of Aotearoa."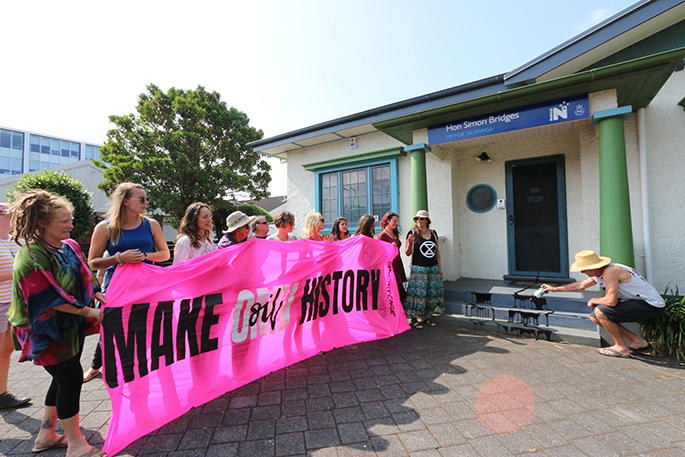 The defacing followed a community 'Climate Awareness Fun Day' that the group had organised at the Soma Creative Studios, which included yoga, singing, discussion and a 'find your activism' session.
Members of the group are also wanting to learn more about engine sludge leaks, as they'd been informed that there had been a leak within the last 24 hours in the Tauranga harbour.
"We are trying to investigate how much oil has been spilled in this sludge leak but the Port of Tauranga is being quite stealthy," says local Extinction Rebellion member Ali Thompson. "Perhaps a small amount like this seems like business as usual to them, seeing as the Port of Tauranga experiences the most oil spills in the country. Not many of them are as dramatic as Rena, but small, unreported events like this can potentially cause huge damage. This weekend seems like a good time to ask our elected representative why he isn't addressing dirty oil's role in the ecological emergency."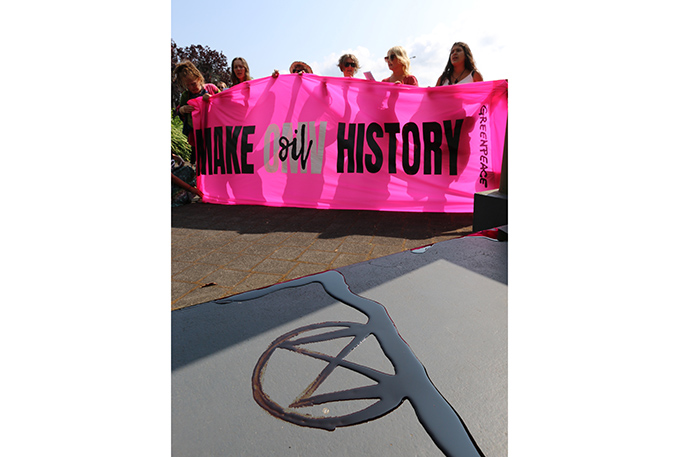 On September 28, Jasmine Black and Marcus Carambola, two of the activists from Extinction Rebellion Tauranga, left with local yachtsman David Zenco on board his 30-foot sloop 'Wake Up' with the plan to sail to Wellington to attend the global climate protest.
On leaving port, David said he was 'very excited about the week of action coming up and I have decided to take on the mission of sailing to Wellington from Tauranga.'
The activists planned to arrive in Wellington in time for the Global Rebellion that was starting on October 7.
On reaching Gisborne however, the journey on 'Wake Up' ended, with David staying on in Gisborne for the waka event, and other members of the crew reaching Wellington by hitch hiking.