I've been thinking this week about community; a couple of events on July 24 show again that it's happening and growing all around us.
First of all though, I must mention an upcoming Bob Dylan concert, which has the Bob fan community positively buzzing. For someone who has played over 100 concerts each year since the 1980s, the past year has been unusually quiet for Uncle Bob, aside from, that is, an album counted as amongst the best of his 60-year career.
Now Dylan is live streaming. Or something like that. Some sort of concert. It's hard to tell. Not exactly a live stream since 30 seconds of the song Watching The River Flow appeared on the Rolling Stone site.
What we know is it's some sort of online concert stream, at 9am on Monday, July 19 (in New Zealand). It is being streamed on a service called Veeps, via: bobdylan.veeps.com
It costs US $S25 plus fees and you can watch until 6:59pm on July 21. That is absolutely all I know except that I bought a ticket and the system seems easy to use!
Okay. Back to the real world community as opposed to the online one. The Tauranga Acoustic Music Club (TAMC) is currently celebrating 25 years of existence.
Originally called Tauranga Unplugged Unlimited Folk, the club first met on Wednesday, July 15, 1996 at the Soul Kitchen, upstairs on The Strand, which was its initial home. Amongst the original members were Jacqui Lamont, Robbie Laven, Marion Arts, Steve McCurley, Averil Jarlov, Russ Heyes and Mike Kirk.
Clubbing
I'm a big fan of clubs like this, which become little communities in their own right. There are many: The Katikati Folk Club, several country clubs, the Jazz Society, the Film Society - groups following their passions and creating their own individual communities. The TAMC met once a week, alternating jam sessions with blackboard concerts, and they still do that today, 25 years later.
There have been periods when they arranged concerts for touring artists; more recently they have left that to the Katikati club, deciding members most enjoy the social aspects of the club, playing with and listening to each other.
Over the years they've moved all over, to Flannagan's Irish Pub, Fahy's Tavern, Bureta Park Motor Inn and various hostelries on The Strand. Currently they're at the Tauranga RSA in Greerton every Tuesday from 7pm with anybody welcome, from complete beginners to professional musicians or just listeners.
This year, to mark the 25th anniversary, they are presenting a concert at Baycourt X Space theatre on Saturday July 24, with Auckland's Harmonic Resonators supported by Tauranga's own bluegrass exponents Kaimai Express.
The Resonators are renowned for highlighting New Zealand's own folk music with lush harmonies, soaring yodels, Waiata Māori, popular favourites and your classic after-party songs. There are still tickets left for the general public, priced at $22 from Baycourt or: ticketek.co.nz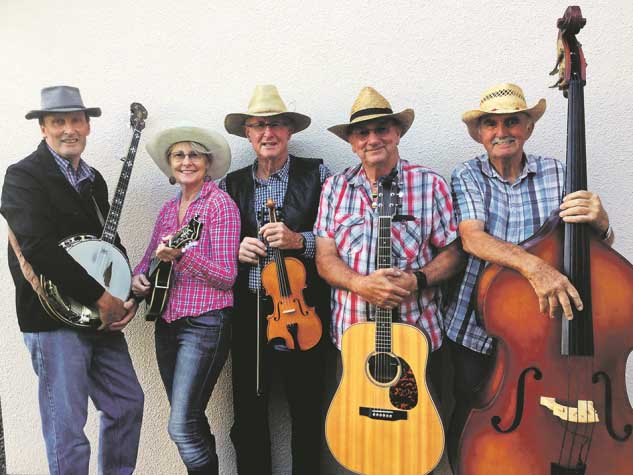 Te Puna
Meanwhile I also note an outpouring of community in Te Puna which is, somewhat surprisingly, becoming a bit of a food and art hub. There is a growing little centre of interesting shops and more and more people seem to be noticing what has been seen for many years as pretty much a wide spot in the road with a garage and café
Now, in addition to long-standing Nourish Café, there are boutique accessory and fashion shops and across the road the "village" boasts the very good Te Puna Deli, innovative butcher Naked Meats, and the White House restaurant which comes complete with its own recently-opened art gallery (it's big too!).
The new Te Puna Hall – now behind the garage – is also up and running and has seen shows by the Army Band, the Packhouse Experience and more. If you're looking for an alternative to the Harmonic Resonators on July 24 you'll find local favourites Kokomo at Te Puna Hall, from 8pm, promising a good old knees-up.
There'll be a support set from classic retro rockers Play Misty and then a bunch of dancing just like in those old country hall dance days. More community. Tickets are $20 from Eventfinda.co.nz or Te Puna Motors.