The Bay's General Practice teams are pulling out all the stops to get behind Super Saturday with huge efforts behind the scenes to make it a success.
"This is our big chance to put a halt to the spread of the Covid-19 virus and get the community vaccinated," says Western Bay of Plenty Primary Health Organisation (WBOPPHO) CEO Lindsey Webber.
"Our GPs, Practice Nurses, Admin teams and many of our PHO staff have really got behind Super Saturday, embracing the day with added activities to make it an event to remember and I really want to thank them for their huge efforts."
The nationwide push to get as many people as possible vaccinated against Covid-19 is happening on Saturday, to be televised on TV3.
"The summer holidays are only eight weeks away. We need everyone to get their shot now so we can be fully vaccinated in time to get back to enjoying the things we love, to be as free as possible at Christmas to have family time with our whānau and friends," adds Lindsey.
"There hasn't been much time to prepare for this event. Our General Practices, hauora, pharmacies and other health providers have put in the mahi to make it a success. It's shaping up to be a highly charged Super Saturday and we want everyone to now get out, get their shot and help fuel the fight against Covid-19."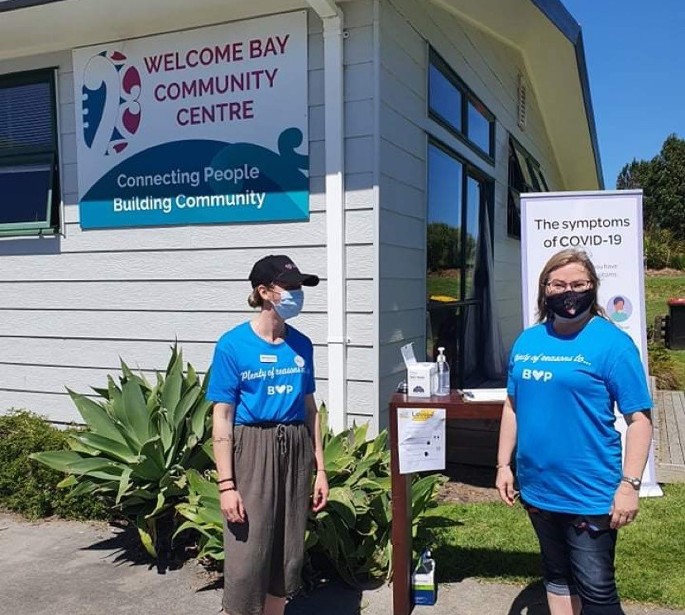 The Welcome Bay Community Centre is running a community barbecue alongisde the walk-in vaccinations today from 11.30am to 3pm. Photo: Supplied.
Lindsey says "even if you have already had one or two doses of the vaccination – good shot! But your job is not done".
To best protect your whānau, community, and the rest of New Zealand, everyone is being asked to reach out today to friends, whānau, and colleagues who may still have some hesitation about being vaccinated and need some help and support to get it done.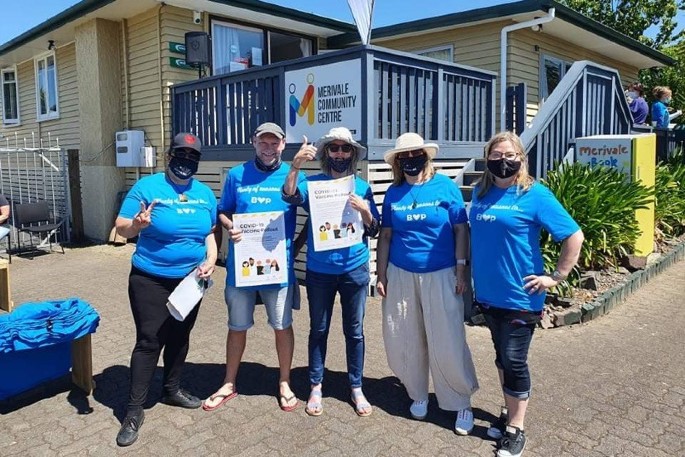 There is a barbecue, smoothie machine, and music at the Merivale Community Centre which is running a pop up vaccination clinic until 3pm. Photo: Supplied.
WBOPPHO wants to acknowledge the massive effort the whole of primary care across the region has put in to support Super Saturday, its work to support the vaccination roll out so far, and the likely increased role it will play in the future.
Many practices across the region are taking walk-ins, while appointments will have to be made at other practices that are already reaching capacity for bookings on the day.
"Some of our practices have not been included in the public announcement. 5th Ave Family Doctors, Mount Medical Centre, The Doctors Bayfair, Te Puke Medical Centre, The Dr's Papamoa, and The Dr's Phoenix will also be open for patients with booked appointments."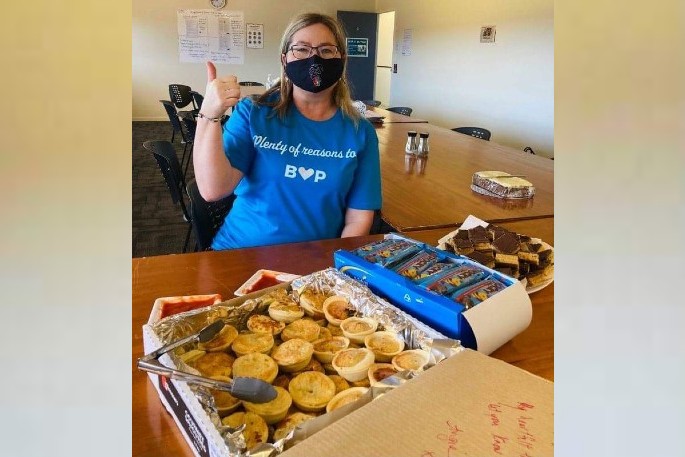 Labour List MP Angie Warren-Clark is spending much of Super Saturday delivering savouries and morning tea to the vaccination staff at Trustpower Baypark, Merivale Community Centre and Welcome Bay Community Centre. Photo: Supplied.
What's happening locally this Super Saturday?
Mount Maunganui
• Pop-up vaccination clinic and free ice cream at the beach volleyball at Mount Main Beach, 9am to 5pm
Tauranga
• Free coffee vouchers and vaccinations at Life Pharmacy Devonport Road, 9am to 5pm
• Grab a coffee and get your shot at The Doctors Tauranga, 8.30am to 3.30pm
Bethlehem
• Walk-in vaccinations at Ngati Kahu Hauora, 9am to 12noon
Greerton
• Walk-in vaccinations at Chadwick Healthcare in Greerton, 8.30am to 4pm
Welcome Bay
• Community barbecue and walk-in vaccinations at Welcome Bay Community Centre, 11.30am to 3pm
Ōmokoroa
• Free barbecue for everyone who gets vaccinated at Omokoroa Medical Centre, Ōmokoroa, 8am to 2pm
Te Puke
· Walk-in vaccinations at Poutiri Wellness Centre – 10.00am – 12.30pm
Katikati
• Community barbecue and walk-in vaccination clinic at Katikati RSA, 10am to 3pm
Whakatāne
• Community barbecue pitstop and walk-in vaccinations with free burgers, ice cream and spot prizes at 11 Quay Street, 8am to 6pm
• Walk-in vaccinations and free hāngī at Te Puna Ora o Mataatua, 92 King Street, 10am to 3pm
• Coffee and café vouchers for those who get their shot at Unichem Total Health Pharmacy, 252 The Strand, 9.30am to 4pm
· Walk-in vaccinations with free coffee vouchers and Kiki Cookie pies at The Dr's Phoenix, – 09.30am – 4.30pm
Ōhope
• Coffee vouchers and barbecue for those who get vaccinated at Ōhope Medical Centre, 262 Pohutukawa Avenue, 9am to 12noon
Ōpōtiki
• Walk-in vaccinations with free kai and a $10 pledge towards every vaccinated person's nominated school, kura, marae or the Eastern Bay hospice at Ōpōtiki Health Centre, 32A King Street, 10am – 12.30pm and 2pm – 4.30pm
Kawerau
• Walk-in vaccinations with free kai and ice cream.
• Kawerau Town Hall, 9am to 3pm
Edgecumbe
• Chez Louis pizza for everyone who gets their shot! At Edgecumbe Pharmacy, Riverslea Mall, 9am to 12pm
• Free chocolate for those who get vaccinated at Riverslea Medical Centre, Riverslea Mall, 8am to 12pm
Walk-in vaccination hours have been extended at the Mount Maunganui, Tauranga and Whakatāne BOPDHB vaccination clinics.
Open 8 am to 8 pm Friday – Sunday:
1. Mount Maunganui: Trustpower Baypark, Truman Lane
2. Tauranga: 87 First Avenue
3. Whakatāne: 11 Quay Street
20 minutes is all it takes to get your shot and get summer ready. Let's make the most of summer in the Bay.
Find out more about super Saturday at www.covid19.govt.nz/super-saturday