The recent collapse of State Highway 35 could have been prevented if action was taken sooner.
This is according to a regular user who drives the route to deliver "essential medical services" to the East Coast.
"The collapse of SH35 was totally predictable and avoidable," says the man, who wishes to remain anonymous.
"The river has been heading towards the road for the last six months at least."
He says the road is used by many Bay of Plenty transport operators along the East Coast, as well as people who are heading past Ōpōtiki for leisure purposes.
He believes if Waka Kotahi NZ Transport Agency spent time diverting the river, it would have cost significantly less than to rebuild the collapsed road.
"It is a flat low level river used as a shingle quarry with easy equipment access. A month ago, diverting the river would have taken four excavators one day with an estimated cost of around $4000.
"I first decided to look at a map when we were driving through for work one day. I couldn't believe how far in the river was.
"I thought something wasn't right, and as we came up the Maraenui Hill, I thought 'holy smokes, that is just ridiculous'.
He adds when he opened the map, it became clear that the river should have been on the NZTA radar.
"You can clearly see that the swirling bay has been forming in there for over a year. The Motu River has found its own course after time like any other river going out to sea.
"If any road inspector noticed a year ago and decided to divert it, it would have saved this whole saga from happening. It wasn't even out of vision, the water creeping in was in plain sight."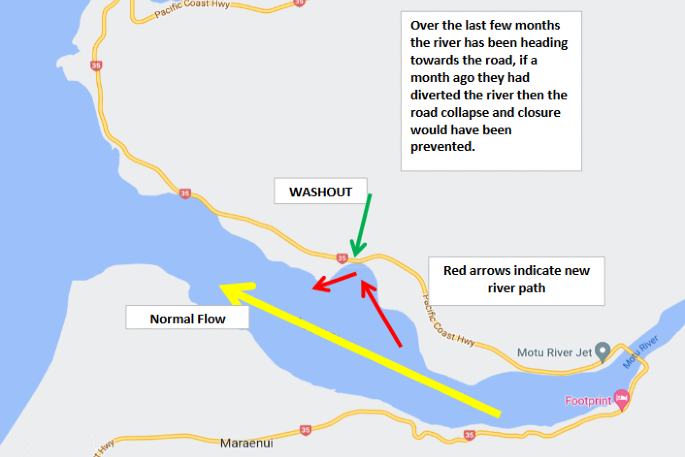 A map showing where the river runs in. Image: Google Maps.
The transport operator predicts that if the river is not diverted away from SH35, the next collapse will happen 1km further along the highway.
"This is not using hindsight to cast blame, but it is just highlighting NZTA's failure to be proactive and focus on their core responsibilities."
NZTA national emergency response manager Mark Owen says the coastal surges and significant rainfall has put pressure on "a roading network that is already susceptible to unstable geology".
"As much as we can't mitigate every potential situation, we also cannot fix everything all at once – this comes down to resource constraints (materials, machinery, personnel, funding and consenting)," says Mark.
"The Regional Council is responsible for all river works and Waka Kotahi NZ Transport Agency was not aware of any concerns council had regarding this particular location."
Bay of Plenty Regional Council integrated catchments general manager Chris Ingle says that the Motu River is "not a river that is actively managed by the Bay of Plenty Regional Council".
"It is not part of one of our river scheme areas. Consequently, Bay of Plenty Regional Council has no responsibility for redirecting the river flow," says Chris.
"When infrastructure, such as roads and bridges, is potentially affected by a river it's up to the asset owner to determine whether intervention is required. If the decision is made that intervention is required, then Bay of Plenty Regional Council will provide assistance via river management and/or consenting advice.
"Bay of Plenty Regional Council continues to assist Waka Kotahi, via advice, on the temporary repair and with a more permanent solution."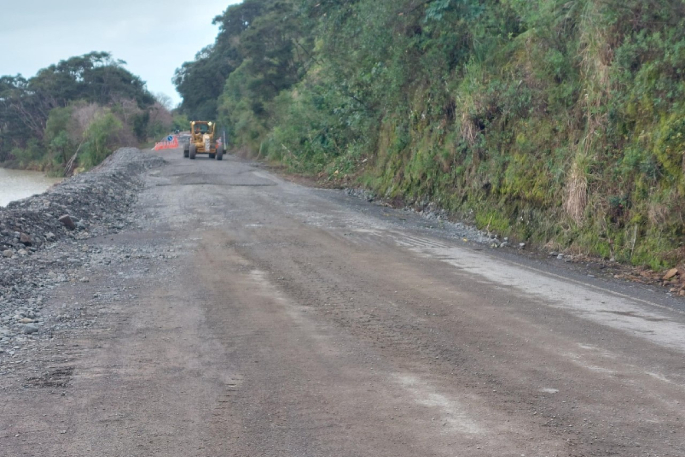 Repairs being carried out on SH35. Photo:NZTA.
"Unfortunately the unstable geology at this stretch of road is typical of the East Coast, and other locations across NZ where roads run alongside rivers, and can make it hard to prioritise risks based on likelihood of if and when they might occur," says Mark.
"That's why we have an active risk assessment and monitoring programme for the state highway network, and why our crews noticed the cracking in the road and were able to do something about it early, ensuring we could keep both our contractors and people who use the road safe.
"Our focus is on stabilising the embankment. The high rainfall together with extremely high river level and high velocity of the water makes it a challenging situation. The S curve in the river is continuing to move north at a rate of around 10m a day.
"We are working hard to get rock protection along the river edge to prevent further deterioration of the road.
"We know how important these connections are to communities on the East Coast - to access necessary services, such as food and healthcare, to get kids to school, to run businesses and to stay in touch with friends and whanau."