As you walk along Devonport Road, looking through all of the shop windows, you will find that most of the stores are empty.
Most of the stores that are still open are 'mall stores' and will just open up somewhere new but the one off stores are suffering.
Raye Drake from Bridal Solutions on Devonport Road says that after 15 years, everything has got to go.
Raye originally was in the building next door but three years ago had to shift due to the building being demolished and being rebuilt as a Quest Hotel.
"Business started to reduce when No 72 Devonport was sold, and was left empty for three years with fencing around it to keep the public away. This sent the public to the other side of the street to avoid the closed off footpath right next to my store," says Raye. "It's a tragedy but what can you do?"
"This town will soon be a ghost town as no one can afford to stay and the 'mall shops' will just close and open somewhere else."
Raye also says that parking on Devonport Road is a major issue, with having to pay for parking and there being a lack of parks. She also says she has noticed a change in the amount of people coming into the CBD, with it getting less and less.
"Why would you come into the CBD and pay for parking when you can go to BayFair or The Lakes and park for free?"
"You walk up the street and everything is either closed or closing down, what must people think? What must the visitors think?"
"I've worked hard over the years, and I've loved my job and I love what I do, but with construction and other things getting in the way, I've got to sell as much stock as quickly as I can," says Raye.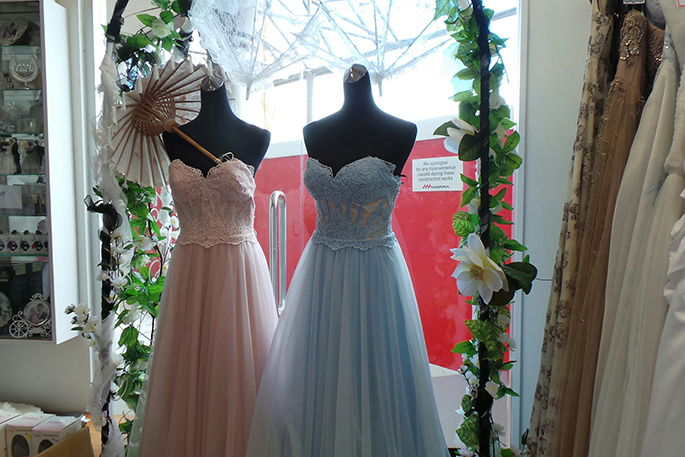 Raye also says that with the construction going on next door, she is losing a lot of foot traffic.
A lot of people when they see scaffolding and construction peering out over onto the footpath, people will cross the road, to avoid getting in the way.
October 27 will be Raye's last day in the store, and with a 50 percent off sale, she is hoping to have sold most of her stock before then.
So if you're looking for your dream wedding dress, now is your time to get it at a great price.