While away on holiday, Papamoa residents Jake and Natasha Thomas discovered their house had been burgled and trashed.
The Arabian Drive family home was broken into on Saturday evening.
"We had a close friend staying in the house," says Natasha. "They were out from 4pm and came back the next morning to find our house had been cleaned out.
"My car was also taken. I call it a mum wagon. It has a child car seat in it, so they took that too."
The car, a light gold Nissan X-Trail 2005 model, with registration GAZ498, had just been cleaned and had a full tank of fuel.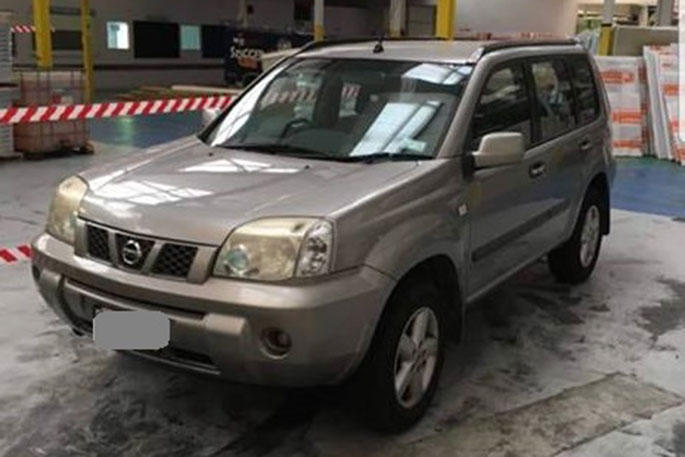 A light gold Nissan X-Trail, similar to the one pictured, 2005 with registration GAZ498 was also taken.
"It's the third time we've been hit in the last three months. We've only been living in the house for about five months.
"The first time we were hit they couldn't get into my husband's vehicle. Then the next time they came back with better tools and got in and got a few of his tools. This is the first time they have broken into our house.
Jake is a hunter with a firearm licence. The burglar's haul included nine of his firearms, ammunition, a World War 2 medal and a special unique piece of memorabilia – tank trench art from World War 2 in the form of a cup.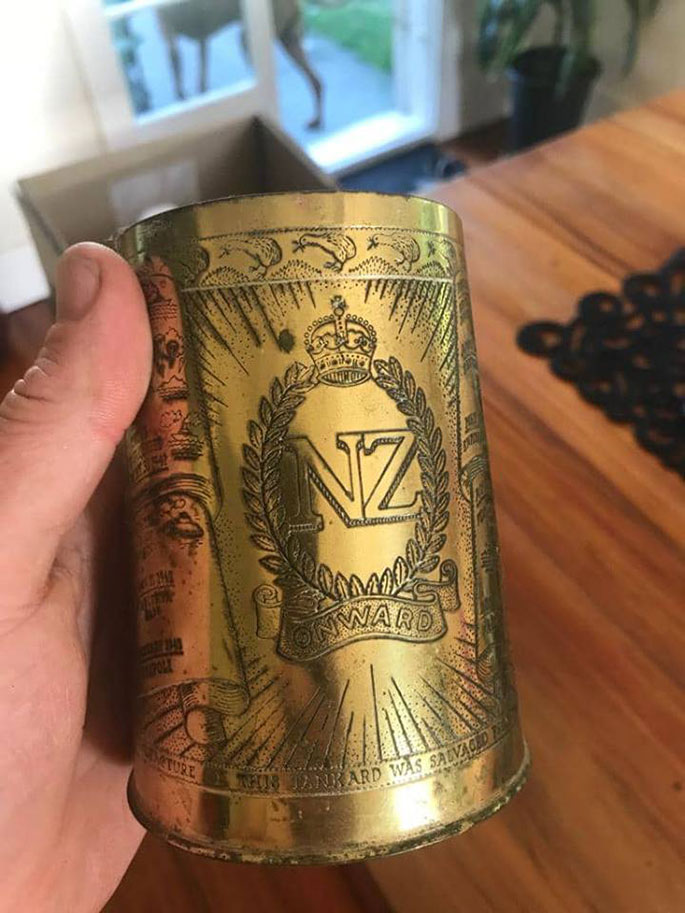 The rare tankard made from gun shell casings from a WW2 tank cannon.
"They were passed down from my husband's grandfather, so they're very sentimental. You can't really sell them."
The tanker mug was made out of gun shell casings from a cannon on a tank that Jake's grandfather drove, and is hand-engraved.
"It's very rare," says Natasha. "You can't buy them. There are two of them, and Jake's brother has got one as well. It's of high sentimental value, which is why we are happy to reward someone if we can get it back. We don't care, we just want the cup and medals back."
Jake also owns Mr Handy NZ Ltd, a handyman business.
"Because we were away we made sure his vehicle was secured and not parked at the house.
"The trailer that he has with all his tools was also somewhere else, which is why we think they broke in in the first place, because they were wanting that. So they got in and got all of our other items."
The burglars also took a distinctive gold dive helmet, Natasha's horse saddle and the meat from two freezers.
"One chest freezer was entirely full with meat and they took all of it," says Natasha. "They took power tools – chainsaw, hedge clippers, trimmers, weed wackers, all that kind of stuff. They even took a heavy duty broom."
Natasha has had a lot of people contact her since the burglary.
"It's interesting. Since I posted to Facebook I've had a lot of people private messaging me about suspicious stuff that's been happening in the street, with a lot of tradies and people with trade vehicles who have been followed home.
"Cars have been hit, but nothing in the last few months. It's pretty much mainly been us.
"We haven't claimed on insurance previously, because they never came into the house. They were just targeting our vehicles."
The couple immediately contacted police.
"The police are investigating it and have been back to the house twice since it happened. They've taken forensic evidence as there was DNA left at the scene.
"They're going to get caught because they've already have quite a lot of information on them.
"It was lucky we weren't home when it happened," says Natasha. "But from what some of the neighbours have said, they were waiting for our friend to leave the house and were targeting it. People have seen a white unmarked furniture removal three-bedroom kind of closed truck cruising around our street and parking around our area waiting.
"One lady went to the supermarket to do her shopping and came home and the truck was still sitting there, with some guys in it but they weren't moving any furniture. They were just literally hanging around our street near where our house is.
"She is going to talk to other people who go past our house every day to see if they've seen it as well. She just remembered that when she saw it she thought it was really odd, because of the time of day and because they weren't doing anything. They weren't moving any furniture."
Other neighbours have also reported seeing the white furniture truck with no branding on it parked nearby.
"Unfortunately our neighbours were also away on holiday so there was no-one in their house either. So they basically had the whole night to do the burglary. There was jewellery and lots of valuable items that were quite distinctive. Like the World War 2 medals and the cup.
"It's not a nice feeling to know they were just sitting watching and waiting for us all to leave, and that your house is targeted, especially when we had it locked, and they've physically broken in.
"Many of the guns are quite distinctive and have loads of sentimental value to us," says Natasha. "My husband was given one of them on his 21st birthday and uses it for deer hunting. We have already provided photos of everything to police, gun clubs and other places."