Firefighters made two calls for backup as they battled a fast-spreading fire northwest of Lake Taupō.
Three helicopters were working on the Mangakino vegetation fire on Thursday, and it grew to cover around two-and-a-half hectares.
Wind and a hilly site meant the Waipapa Road blaze was "racing uphill", Fire and Emergency New Zealand northern communication shift manager Daniel Nicholson said, mid-afternoon.
Firefighters were called around 3.45pm, when the fire was around 100 metres by 30 metres.
Four hours later, the helicopters remained, along with two bulldozers - which help to turn over ash and debris to release the heat - and ground fire crews.
By that time, the fire covered around two-and-a-half hectares of scrub and old man pine, all on steep terrain, says Fire and Emergency New Zealand northern communication shift manager Carren Larking.
"[The fire] is contained between the main road and the power access road," she said.
Waipapa Road was closed.
At least one of the helicopters fighting the Mangakino fire flew over after fighting a separate bush blaze in Kaingaroa Village, southeast of Rotorua.
That fire was being treated as suspicious and the police had been called to assist.
A police spokesperson has confirmed that officers are making enquiries into the cause of the fire.
Emergency Services were called to the fire in the Kaingaroa township, near Middle Rd, at 1.30pm.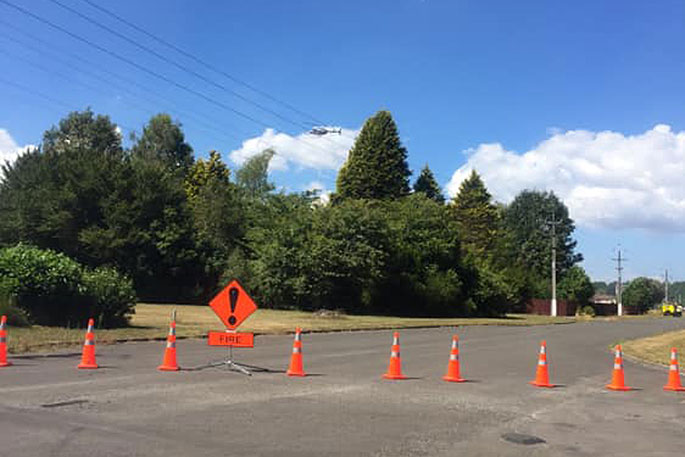 The fire started in a shelter belt, which was approximately 18 metres long, but spread through a nearby paddock.
Eight fire crews and two helicopters were called to help and one house was evacuated, but didn't appear to be damaged.
The fire was contained before it spread to Kaingaroa Forest, which stretches across 2900 square kilometres of the Bay of Plenty region.
It was unclear how much damage the fire had done to vegetation in the town.
It was around 3.15pm when the first fire engines left the scene, Nicholson said.
Kaingaroa Forest School got a call around 2pm - in the middle of the first school assembly of the year - and decided to close.
The school was told the nearby KLC Mill had closed because of the fire, says principal Marylouise​ Macpherson-Hall said.
About 55 tamariki are on the school roll, and they were either picked up, sent straight home, or delivered to their whānau.
"I think the village was in a little bit of standstill mode," she says.
"It was a bit scary for us, when you think we're in the heart of the forest and anything can happen - and what's happening in Nelson as well."
The village had also just celebrated 30 years of independence from the government-owned Forestry Service, so this came as a blow.
She wanted to thank everyone involved in protecting the village from the fire.
But she still hadn't had the official all clear by 5pm, so wasn't sure whether the school would be open on Friday.